From the Chicago Reader (May 4, 1990). — J.R.
DOCUMENTING THE DIRECTOR
It's no secret that over the past few years, while "entertainment news," bite-size reviews, and other forms of promotion in all the media have been steadily expanding, serious film criticism in print become an increasingly scarce. (I'm not including academic film interpretation, a burgeoning if relatively sealed-off field that has by now developed a rhetoric and a tradition of its own — the principal focus of David Bordwell's fascinating book Making Meaning, published last year.) But the existence of serious film commentary on film, while seldom discussed as an autonomous entity, has been steadily growing, in some cases supplanting the sort of work that used to appear only in print.
There are plenty of talking-head "documentaries" about current features — actually extended promos financed by the studios — currently clogging cable TV, but what I have in mind is something quite different: analytic films about films and filmmakers. Many of these films are shown in film festivals, turn up on TV, and are used in academic film courses, but very few of them ever wind up in commercial theaters, with the consequence that they're rarely reviewed outside of trade journals. Yet some of them are good enough to deserve much wider audiences, and because the range of quality in these films is extremely broad, there's good reason to make an effort to separate the wheat from the chaff.
"Documenting the Director," a series of half a dozen documentaries running at the Film Center this month, consists of more wheat than chaff, although both are pretty well represented. To my mind, all but one of the six films — Nick Broomfield's tediously self-indulgent Driving Me Crazy — are better than most films of this kind. Only one of them, however, represents a genuine formal departure — the late Emile De Antonio's Mr. Hoover and I, showing on May 24 and 25 — and because the importance of this feature extends beyond the question of films about filmmakers, I'll be dealing with it separately in a future column.
Most films about the work of a given filmmaker have a fairly standard itinerary that can be described as a show-and-tell format — which consists of clips, interviews (with the filmmaker and various friends, associates, biographers, and critics), and, if the filmmaker is still active, footage documenting him at work on a feature. In the Film Center series, Signed, Lino Brocka, Preston Sturges: The Rise and Fall of an American Dreamer, and Motion and Emotion: The Films of Wim Wenders all follow this formula, and Jean Cocteau: Self-Portrait of a Man Unknown differs only in that Cocteau himself provides all of the commentary. Some of the best examples of films in this format include Peter Bogdanovich's Directed by John Ford, Patrick Montgomery and Richard Koszarski's The Man You Loved to Hate (on Erich von Stroheim), Kevin Brownlow and David Gill's The Unknown Chaplin, and Michael Ventura's "I'm Almost Not Crazy" (on John Cassavetes).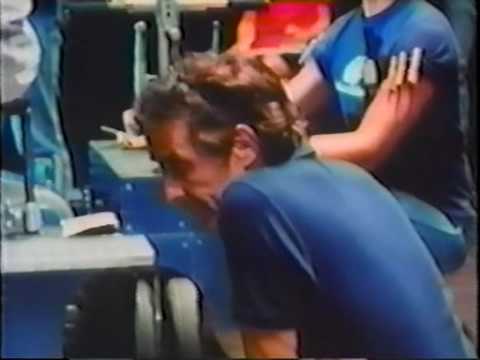 Other more interesting documentaries adopt some or all of this show-and-tell format only to subvert it. Orson Welles's Filming Othello (1978), for instance, features several clips from Welles's Othello (1951), but most of them were re-edited by Welles himself; Michael Powell's Michael Powell (1986) — a brilliant self-portrait made for British TV and Powell's last film — has the director in effect traipsing through his own films in the process of commenting on them. (Other subversive examples include Jon Jost's short Godard 1980, Mark Rappaport's video Mark Rappaport: The TV Spin-off, made the same year, and Julia Solntseva's Golden Gate [1969], about her late husband Alexander Dovzhenko, which includes not only clips from Dovzhenko's films but also her own partial realizations of some of his unfilmed scripts.) A fine example of a documentary that essentially dispenses with this show-and-tell format is Thom Andersen's Eadweard Muybridge, Zoopraxographer (1976), a film theorist's analytic meditation on the life and work of his subject.
The French emphasis on style and form has yielded on occasion a more creative and more interesting approach to this format than most English and American examples — most notably in Cineastes de notre temps ("Filmmakers of Our Time"), a TV series that often imitates the shooting and editing styles of the directors who are interviewed. Thus Josef von Sternberg received Sternbergian lighting, Samuel Fuller was accorded staccato editing, and Cassavetes was filmed in his own home with a hand-held camera. More recently, the series featured David Lynch filmed at home: as he dictated a script to a secretary, the camera drifted dreamily into the next room, picking up a slanted view of Eraserhead playing on a TV set before gliding back to Lynch again. (There's a movement afoot to import these valuable documentaries, which have been appearing since the 60s, to the U.S., so they may turn up in Chicago eventually.) Andre Labarthe, the principal director of Cineastes de notre temps, recently applied similar tactics to a semifictional feature in English about the last days of Orson Welles, The Big O, with tilted camera angles and Wellesian lighting schemes employed at various stages in the plot.
In fact, some of the best fiction features of Jean-Luc Godard and Jacques Rivette, which develop this approach even further, can be read as film criticism of a very high order. Godard's Alphaville is, among other things, a detailed critique of German expressionist cinema in terms of themes, ideology, lighting codes, and camera movements, all brought to bear on contemporary Paris, while Rivette's Celine and Julie Go Boating can be read as a commentary on both the spontaneity of American musicals and the carefully preplanned doubling structures of such Hitchcock movies as Shadow of a Doubt, Strangers on a Train, and The Wrong Man. But perhaps the most complex example of this is Godard's recent documentary TV series Histoire(s) de cinema – in some respects his Finnegans Wake – which uses direct quotation rather than imitation, employing dozens of clips, stills, and fragments of sound tracks, often many of them simultaneously, along with his own fragmented commentary, to evoke various relationships between film and history.
Signed, Lino Brocka (1987), the first film in the series, was made by Christian Blackwood, a German-born documentarist currently based in New York whose previous subjects have included Eartha Kitt, Zarah Leander (the German movie star of the 30s) and her contemporary fans, and the diverse and fascinating people in various motels, in Motel (1989), his latest feature. Brocka, who is the most talented and important director now working in the Philippines — and probably the most prolific, having directed more than 50 films in less than 20 years — specializes in low-budget melodramas, the most personal ones charged with social and political awareness. To date I've seen only a limited sample of his work, and this at film festivals, which are regrettably the main venue for his work in the U.S. so far — a common problem for even the best third world filmmakers, and I'm confident from the little I've seen that Brocka is one of the best. The raw emotional impact of his films makes them fully accessible, and I suspect that the absence of big budgets and white stars is the main reason Brocka lacks a bigger American audience.
Blackwood's film focuses more on Brocka's life than on his films, and considering the nature of Brocka's career, this makes perfect sense. (This approach worked less well when I recently saw it applied to Raul Ruiz in a British TV documentary, because in that case the emphasis on how nice a guy Ruiz is didn't leave much space for dealing with the more subversive aspects of his work.) The film opens with shots of Manila while we hear Brocka on the phone speaking in English to someone in France. Then he explains to Blackwood that he's responding to a French survey about why he makes films, and he proceeds to read his reply — a lengthy statement that concludes "Film for me recaptures the spontaneous, pure, no-nonsensical relationship I had with the world as a child. That is why later, when I learned what was happening to my countrymen, I decided I also wanted to be part of those who tell the truth — I wanted to cry and I wanted to disturb. . . . Signed, Lino Brocka."
We cut to Brocka directing a scene from a movie. We learn shortly that Brocka is making the film in exchange for the producer having paid his bail bond when Brocka was arrested in 1985 for his part as a negotiator in a transit strike. He goes on to describe his difficult childhood, his varied background (including work as a monk in a Hawaiian leper colony), his homosexuality (and the controversial impact of homosexual themes on a few of his films), the Philippines and its film industry, his unbridled hatred for Ferdinand and Imelda Marcos, and his growing activism; and what impresses one the most through this extended and illustrated conversation with Blackwood are his courage, intelligence, and candor. When clips from his films are shown — apparently filmed directly off a screen or moviola — Brocka translates the dialogue, explains the plots, and offers self-critical comments to Blackwood while we see them. The film assumes as well as demonstrates a direct continuity between Brocka's passion as a director and his passion as a human being, and while the results can't completely take the place of seeing a Brocka film, they provide an absorbing and comprehensive introduction.
It's entirely possible that Manny Farber and W.S. Poster's "Preston Sturges: Success in the Movies" is the finest piece of American film criticism ever written, but apart from this luminous essay, criticism of Sturges has not generally been equal to the caliber of his work. The challenge of dealing adequately with the awesome singularity of both his life and his work as a writer-director has defeated all biographers to date, and even such readable commentaries as the six Sturges chapters in James Harvey's Romantic Comedy leave one feeling vaguely dissatisfied. Farber and Poster excepted, there's something about the man and his brilliant comedies that continues to defy description, at least on the printed page.
Considering this obstacle, Preston Sturges: The Rise and Fall of an American Dreamer, showing Saturday, May 5, does a surprisingly good job of laying out the basic facts and contradictions of Sturges's life and meteoric career. Produced and directed by Kenneth Browser, written by former Variety critic and reporter Todd McCarthy, and narrated by actor Fritz Weaver, the movie is notable both for its overall lucidity and for the wide array of archival material it draws on, ranging from bits of radio interviews to Sturges's cameo appearance in Star Spangled Rhythm (1942) to photographs and verbal accounts of the gabmaster at work. Its overall approach is biographical rather than critical, but it does a brisk, professional job of squeezing in a lot of data without seeming ponderous; the choice of clips and the lean, functional narration usually come together with maximal efficiency.
Only two facets of Sturges's career get less attention in this film than they deserve: his extraordinary stock company of character actors and his last film. In the film critic Andrew Sarris offers a perceptive account of how these actors functioned in a typical scene, and the narrator goes on to cite half a dozen of them while almost subliminally quick close-ups of each from a single group photograph flash by: William Demarest, Jimmy Conlin, Robert Warwick, Jack Norton, Robert Greig, and Frank Moran. But given the Brueghelian richness of this aspect of Sturges's art, this list should have been much longer — at least a dozen major names are omitted, from Edgar Kennedy and Raymond Walburn to Lionel Stander and Akim Tamiroff — and a clip or two that illustrated the choral function of a few of these performers would have been priceless.
Regarding the second, Sturges's rarely seen swan song, made in France and known in the U.S. as The French They Are a Funny Race (1957), is the only film he directed that isn't accorded a clip. Apart from Pauline Kael's judicious short notice in 5001 Nights at the Movies, virtually every critical reference to the film in print writes it off as dreadful and unfunny, and this documentary glides past it so hastily that it seems to concur, but I beg to differ. Although it's far from a masterpiece, it has sweetness, gallantry, wit, and an uncharacteristically leisurely pace that is elegiac rather than inert. (If there is a dreadful and unfunny film in the Sturges canon — and I'm afraid there is — it's The Beautiful Blonde From Bashful Bend.) Apart from these cavils, this picture is a model of what the conventional show-and-tell format can accomplish.
The same can be said for Paul Joyce's British documentary Motion and Emotion: The Films of Wim Wenders (1989), which will be showing May 17 and 18, although in this case the film's principal value is as criticism rather than as information. This almost never happens in American show-and-tell documentaries, which usually try to hide their biases rather than state them overtly — the way that the Sturges film handles its disdain for The French They Are a Funny Race, for instance. Motion and Emotion, on the other hand, conveys its point of view about what's questionable as well as praiseworthy about Wenders's work; and without being either malicious or polemical about it, it offers the best ideological critique of Wenders that I've ever encountered, much of it coming from critic Kraft Wetzel (who remarks in the course of a fascinating discussion that Wenders will be remembered as the Christian Democrat of the new German cinema).
Among the other people heard from are actors Peter Falk, Dennis Hopper, Harry Dean Stanton, and Hans Zischler; filmmaker Samuel Fuller; novelist Patricia Highsmith; cinematographer Robby Muller; and musician Ry Cooder. As a detailed investigation into a major contemporary filmmaker, this seems to me a more valuable and intelligent appraisal than any of the books or articles I've seen on Wenders in English or French.
It's hard to know who to recommend Nick Broomfield's Driving Me Crazy (showing May 10 and 11) to unless it's aspiring documentary filmmakers who could study what to avoid, or, barring that, how to capitalize on mistakes by making a feature about them. Broomfield is the English documentarist who made Soldier Girls (1981) and Lily Tomlin (1985) with Joan Churchill, and Chicken Ranch (1982) — a film about a Nevada brothel — with Sandi Sissel. More recently, he was commissioned to film the preparation of Andre Heller's all-black stage musical Body and Soul, from its New York casting to its Munich opening. Assigned a writer he didn't like to juice up the proceedings, suffering a budget cut of 80 percent, accidentally blowing out all the lights in the rehearsal studio, and mauling the choreographer with a camera, Broomfield wound up alienating, antagonizing, and interfering with the work of the stage company — meanwhile recording, to all appearances, very little of interest on film. Rather than scrap the results, he decided to make a film about these various disasters and pass them off as a smirky commentary about the crazy world of show business. What emerges is unfunny and stupefying, as well as a prime instance of the pot calling the kettle black.
Having seen only the somewhat distracting English version of Edgardo Cozarinsky's Jean Cocteau: Self-Portrait of a Man Unknown (1983), I can't give a comprehensive account of the original French version, which will be shown on May 31. The narration is by Cocteau himself, taken from interviews that the film periodically cuts to, and the construction that Cozarinsky seems to have in mind resembles that of the popular series of French books published by Seuil in which the printed texts of famous authors are illustrated by photographs, drawings, manuscripts, and other visual materials — a sort of literary scrapbook that yielded, among other volumes, Roland Barthes by Roland Barthes, and a similar posthumous volume on Cocteau. Cocteau has always been his own best explicator, and in this film his work as an artist and writer is accorded as much attention as his work as a filmmaker. Indeed, at certain junctures clips from his films are used to illustrate his life and art: when he describes a chapel that he painted in 1957 "as my own sarcophagus," a clip from Cocteau's Testament d'Orphee (1959) shows him walking past the same building.
Cozarinsky's remarkable One Man's War (1982) showed a poetic talent for juxtaposing a "found" text (a journal written during the French Occupation) with "found" newsreel footage from the same period, in patterns that created meanings that were Cozarinsky's own. (A Paris-based Argentinean, Cozarinsky is both a former student and critic of Jorge Luis Borges, and he revels in such Borgesian paradoxes.) Here, however, he functions more as a sensitive editor of Cocteau than as a critic, but the wealth of material at his disposal still gives him a certain amount of creative freedom. The overall effect is that of a series of slightly curved mirrors arranged by Cozarinsky in a circle, with Cocteau standing in the center, amused at his own fancifully distorted reflections.