This essay was written between 1999 and 2001 for Movie Mutations: The Changing Face of World Cinephilia, a 2003 collection I coedited with Adrian Martin and wrote (or, more often, cowrote) many pieces for. This particular piece was part of a section of the book entitled "Two Auteurs: Masumura and Hawks" that I collaborated on with the great Japanese film critic Shigehiko Hasumi, which also included two dialogues with him and a lengthy essay by him about Howard Hawks. — J.R.
To appropriate one of the categories of Andrew Sarris' The American Cinema, Yasuzo Masumura (1924-1986) is a "subject for further research". My first encounter with his work was almost thirty years ago in Paris, where his Love For an Idiot (Chijin no ai, 1967), an updated adaptation of Junichiro Tanizaki's 1924 novel Naomi, was playing under the title La chatte japonaise. (As I would discover much later, there are two other excellent Tanizaki adaptations in his oeuvre -– Manji [Swastika, 1964] and Tattoo [Irezumi, 1966].) Spurred by a twelve page spread in the October 1970 issue of Cahiers du cinéma –- perhaps the most extensive critical recognition he's received to date in the West -– I found myself both shocked and intrigued by this depiction of the erotic delirium of a middle-aged factory worker over the much younger wife he trains, marries and loses. One image in particular stood out: crazed by his fond memories of crawling around on all fours while she rode him piggyback, he tries to simulate the same activity alone in his apartment.
Twenty-seven years were to pass before I saw any more Masumura films, and this opportunity came courtesy of a traveling show of a dozen features packaged by Kyoko Hirano of New York's Japan Society, which arrived in Chicago in 1998. Since then, there are three specific and separate reasons why I have been drawn towards continuing this research:
1. A curiosity about the mysterious phenomenon of what I would call global synchronicity: the simultaneous appearance of the same apparent tastes, styles and/or themes in separate parts of world, without any signs of these common and synchronous traits having influenced one another –- all of which suggest a common global experience that has not yet been adequately identified. The series of letters opening this book was initially motivated by this sort of curiosity: the fact that a few younger cinephiles whom I knew of roughly the same age, from different countries, who mainly didn't know one another, shared pretty much the same specialized taste. And it was curiosity about another kind of synchronicity that sparked part of my original interest in Masumura: how a Japanese director of the '50s and '60s whose films echoed in many respects American films of the same period by Samuel Fuller, Nicholas Ray, Douglas Sirk and Frank Tashlin, stylistically as well as thematically, wound up making them without any apparent direct influences running in either direction. Though one could trace a few other glancing overlaps between Masumura's films and American cinema -– Super Express (Kuro no Chotokkyu, 1964), for instance, faintly suggesting a Phil Karlson revenge tragedy, or Ode to the Yakuza (Yakuza zessho, 1970) recalling Hawks' Scarface (1932) –- it was to these four '50s directors that I kept returning.
I can't claim to have arrived at any sort of conclusive results in my investigation, except for the perception that I have probably bitten off more than I can chew. The complex relations between the cultures of Japan and the US engendered through the American occupation -– including the diverse forms of censorship practiced in both countries during this period -– is not a subject I feel qualified to tackle in any comprehensive manner, yet any serious study of synchronicity between Hollywood and Masumura films during the postwar period would surely have to factor in this subject. And even a much more narrowly defined inquiry -– such as the respective definitions of madness in, say, Ray's Bigger Than Life (1956), Fuller's Shock Corridor (1963) and Masumura's A False Student (1960) or Sex Check (1968) -– would have to account for some of the different aesthetic strategies at work in these films, such as the role played by allegory in the Fuller film, making it difficult to come up with a workable critical methodology for all four.
2. A desire to pursue a particular experiment in cinephilia. A belief that I encounter frequently nowadays –- tied to the more general myth that the cinema is dead –- is the melancholy conviction that all the important discoveries in film history have already been made. (One Japanese friend has proposed a variant of this position: that Masumura is in fact the only significant major discovery that remains to be made, at least in Japanese cinema.) Frankly, this belief has always struck me as presumptuous and somewhat arrogant –- suggesting a certain capitulation to the mainstream marketing practices that pretend that all the products worth consuming are already known quantities, theoretically accessible if not available. This trait is particularly pronounced in the United States, where it's widely believed by book and magazine editors that readers shouldn't encounter too many references to films that aren't already known and/or readily within reach. So one particular allure of studying a figure like Masumura is that the odds of getting to know his works in the West in any depth would appear to be impossible: an oeuvre of fifty-eight films –- fifty-five features and three shorts -– not one of which was in distribution. (1)
The challenge of getting to know his work under such circumstances was therefore motivated by a desire to convince both myself and other cinephiles that "impossible" objects of study weren't as impossible to study as we often pretended, mainly out of laziness and inertia. And, to a large extent, this project was successful. At one point in my efforts to track down videos of some of Masumura's films subtitled in English, for instance, I was delighted to discover that at least a couple of these came from a friend's contact in Israel. In much the same way that a recent conference on Philippe Garrel was held in Dublin and largely planned through devotees of Garrel's work who wrote for an online film magazine in Melbourne (2), it seemed that email was a potential boon to cinephilia and research that has only begun to be explored. And meanwhile, it has turned out that my investigation was pretty well timed insofar as Masumura has recently been getting more attention than ever before. Like my third rationale for undertaking this study (see below), this suggested that synchronicity was much easier to trace in relation to cinephilia than it was in relation to cinema per se.
3. An investigation into certain questions of cultural difference. Reading Shigehiko Hasumi's book on Yasujiro Ozu in French translation (3) shortly after it was published, I was intrigued to see many of the (Western as well as Eastern) clichés about Ozu's essential 'Japaneseness' confounded or at least challenged by some of Hasumi's reading strategies –- strategies which were actually quite attentive to specific cultural differences without allowing them to be mystified in the name of exoticism. And because Hasumi was especially enlightening about the ways in which American cinema marked Ozu's films, I began to think that he might be an ideal interlocutor for my inquiry into what was specifically Japanese -– or not Japanese -– in the work of Masumura. Furthermore, knowing about Hasumi's particular enthusiasm for Hawks, I began to think that it might be fruitful to explore not only what was "American" about my interest in Masumura, but also what was "Japanese" about his interest in Hawks.
As it turned out, this latter exploration wound up being pursued only intermittently in our dialogue, and not at all in Hasumi's subsequent essay on Hawks, planned and executed quite independently of our discussion. Yet his essay none the less contributes an invaluable dimension to the cross-cultural topic I wanted to address by approaching the international currency of Hawks quite differently, through formal patterns with implications relating to gender, the body, and, more generally, principles of inversion. […]
***
As luck would have it, my first visit to Japan was in December 1998, to participate in a symposium organized by Hasumi for the University of Tokyo and Shockiku entitled "Yasujiro Ozu in the World". Shortly after this visit, I applied to the Japan Foundation for a visitor's fellowship a year later, and after being accepted, used part of my two-week visit in Japan in December 1999 to continue my Masumura research by viewing eight of his films with an interpreter at the National Film Center, and taping a dialogue with Hasumi at the University of Tokyo about Masumura and Hawks. (During my two visits to Japan, Hasumi was serving in his second and third years in the elected four-year position of president of the University of Tokyo, making his generosity in agreeing to take the time to carry out this discussion in 1999 exceptional.) Furthermore, on my first day in Tokyo, the Japan Foundation arranged a lunch with Sadao Yamane, who had recently published the first book-length critical study of Masumura (5), and later I was able to photocopy some relevant materials in English at the Kawakita Memorial Film Foundation. During a very enjoyable day spent with Mikiro Kato, an associate professor at Kyoto University, in addition to taking me to the grave of Kenji Mizoguchi, he generously arranged for me to visit a local art museum that housed production scrapbooks for all the Masumura films made at Daiei, constituting about four-fifths of his work.
Further research has been made possible through diverse channels. Chika Kinoshita -– a Mizoguchi scholar, former student of Hasumi and graduate student at the University of Chicago -– generously assisted me by furnishing me with both videos of Masumura films and detailed, scene-by-scene synopses of most of these, which allowed me to view them without subtitles; she also translated portions of Masumura's film criticism and other materials for me, drawn from an indispensable Japanese book on the filmmaker that Hasumi had been kind enough to give me (6), and in addition has kindly corrected many of my factual errors. In the spring of 2000, I was able to watch nine more Masumura films at the Pacific Film Archives in Berkeley, California. (7) Adding still others I've managed to see on video from diverse sources, I've by now been able to see thirty-eight of Masumura's fifty-eight films, all but a handful of these with some sort of translation. What follows are a few reflections stemming from this work in progress.
***
Masumura was born 24 August 1924 in Kofu on the island of Honshu and started going to movies at a very early age, having become friends in kindergarten with the son of a movie theater owner; in high school he discovered Jean Renoir. After a brief military stint at the tail end of World War II, he entered the University of Tokyo as a law student who also studied literature -– befriending Yukio Mishima, one of his classmates, who would later star in his feature Afraid to Die (Karakkaze yaro, 1960; see above). After two years he dropped out and found a job working as assistant director at Tokyo's Daiei studio, where he earned enough to return to college as a philosophy major, graduating in 1949 with a thesis on Kierkegaard. The next year he won a scholarship at the Centro Spirimentale Cinematografico in Rome, where Michelangelo Antonioni, Federico Fellini and Luchino Visconti were said to have been among his teachers. (The first of these –- and the only one still alive –- still remembers him, having recently turned up at a Masumura retrospective in Rome.)
After graduating, Masumura assisted on an Italian-Japanese production of Madame Butterfly (1954), then returned to Japan in 1954, where he worked as assistant to Mizoguchi on Princess Yang Kwei Fei (1955) and Street of Shame (1956) at Kyoto's Daiei studio. After Mizoguchi died, he became an assistant to Kon Ichikawa on three more films before shooting his own first feature: Punishment Room (Shokei no heya, 1956), Nihonbashi (1956), and A Full-Up Train (Man'in densha, 1957). Until Daiei went bankrupt in 1971, he remained there, often making three or four features a year, most often accepting assignments and then sometimes shaping them into his own distinctive forms of rebellion; afterwards, for the remaining eleven years of his directorial career, he averaged about one film a year -– an uneven output that included many of his worst films, but at least two creditable achievements: Lullaby of the Earth (Daichi no komoriuta, 1976), perhaps his most significant independent production, and Double Suicide in Sonezaki (Sonezaki shinju, 1978), an adaptation of a Bunraku play. (By contrast, his last two films, which I've seen only without translation, seem to have few defenders: Eden no sono [The Garden of Eden, 1980] –- his only overseas film, an Italian spinoff of The Blue Lagoon –- and In Celebration of This Child aka My Daughter's 7th Birthday [Konoko no nanatsu no oiwaini, 1982], a detective thriller.) He also wrote extensively for Japanese television -– mostly, it appears, after he left Daiei -– but my knowledge of this work is minimal. And all I know about his personal life is that he married a hairdresser and had no children. (8)
A precursor of the so-called Japanese New Wave that took root in the early '60s, around the same time as the French Nouvelle Vague, Masumura was initially regarded as a major guru by Nagisa Oshima in 1958 before embarking on his own features. Indeed, Masumura, director Ko Nakahita and screenwriter Yoshio Shirasaka –- who scripted at least ten of Masumura's features, including Giants and Toys aka The Build-Up (Kyojin to gangu, 1958, see three photos above) and A False Student -– were all heralded by Oshima in a 1958 essay called, "Is It a Breakthrough? The Modernists of Japanese Film"), and Masumura was labelled the "possessor of the sharpest sociological perceptions of the three." (9)
At this point, the release of Oshima's own first film was still about a year away and what he was celebrating in this trio was a taste for youthful irreverence, a conscious methodology and a call for freedom and innovation. In the case of Masumura, part of what this challenge entailed was not an application of the principles of Italian neo-realism -– which is what one might have expected from his formal training –- but, as I will shortly discuss, something closer to the reverse.
Oshima turned on his role model only two years later, objecting in particular to Afraid to Die (not one of Masumura's best films, in my opinion). Essentially he was denouncing Masumura as a modernist -– which in Japanese terms meant catering to Western tastes -– and he never recanted. Perhaps such a falling out was inevitable given Masumura's own profile as a Western-influenced studio director, though it hardly begins to account for how transgressive much of Masumura's work looks today, especially from an American perspective.
A film critic whose collected articles –- published in 1999 in the aforementioned Japanese collection devoted to his work -– are almost as extensive as Jean-Luc Godard's, Masumura wrote a major position paper published in Eiga hyoron (March 1958) replying to his critics who accused him of making bleak and tasteless films that lacked sentiment and featured comically exaggerated and unbelievable characters without any depiction of environment or atmosphere. Essentially boasting that he was guilty as charged on all counts, Masumura offered a few counterblasts:

a. "Sentiment in Japanese films means restraint, harmony, resignation, sorrow, defeat, and escape, not dynamic vitality, conflicts, struggle, pleasure, victory, and pursuit … I buy the straightforward and crude expression, for I believe the Japanese restrain our desire so much that we tend to lose sight of our true mind."

b. "There is no such a thing as non-restricted desire. A person who thoroughly discloses his or her desire can only be considered mad … [And] what I would like to create is not a stable person who cleverly calculates reality, and safely expresses his or her desire within the calculation. I do not want to create a humane human being. I want to create a mad person who expresses his or her desire without shame, regardless of what people think."

c. "What interests me is a conflict between expressions of naked desires which cannot be mitigated by the environment." (10)
In Masumura's films, this madness can veer all the way from the hysterical promotional campaigns of three competing candy companies in the Tashlinesque Giants and Toys to an army nurse during the Sino-Japanese war in the somewhat hysterical and Fulleresque Red Angel (Akai tenshi, 1966, see first photo above), dispensing sexual favors to an amputee and a drug-addicted doctor. It's the madness of war itself in Yakuza Soldier aka Hoodlum Soldier (Heitai yakuza, 1965, see second photo above), where the only violence seen in this depiction of World War II is between Japanese soldiers, and desertion is viewed as evidence of sanity and health -– or in Nakano Spy School (Rikugun nakano gakko, 1966, see third photo above), where the personal and sexual betrayals of espionage ultimately rule out even patriotic alibis. One finds this madness in the slow-witted young man (in A False Student) who poses as a college student, joins a radical study group, and literally goes nuts after being mistaken for a police informer; and in the tea master who methodically sets about sleeping with his late father's girlfriends (in the relatively lackluster Thousand Cranes [Senbazuru, 1969], adapted from Yasumari Kawabata's famous novel). It's very much in the kidnapped model who willingly submits for 'artistic' reasons to getting carved up by a blind sculptor in a warehouse in Blind Beast (Moju, 1969). (This isn't the only instance of essentialism found in Masumura's eccentric depictions of sexuality -– a trait that either compromises his ambivalent feminism or else contradicts it entirely, as in the dreadful The Tortures of Hell aka The Snare aka Kung-fu Harikari [Goyokiba-kamisori hanzo jigokuzeme, 1973], which features a police detective who uses his iron-hard penis, hammered into shape by an anvil, as an instrument to torture women suspects.)
Masumura argued that typical social problem films, including those of Italian neo-realism, foster resignation by giving environment a deterministic force. At the same time, while insisting that he doesn't regard European society as superior to Japanese society, he maintains that "you can actually experience 'beautiful and powerful man"' once you step inside Europe: "Their museums are filled with paintings and sculptures embodying the human beauty and power which the Europeans have spent two thousand years discovering and creating; their streets are crowded with people whose daring looks, confident steps and lively demeanors convey their pride and confidence as Man. In Europe, 'man' is real." (11)
Critic Tadao Sato, who commissioned this 1958 article -– and who takes credit for having discovered Masumura as a director -– told me that Masumura was the first member of his generation to view such masters as Mizoguchi, Ozu and Akira Kurosawa with a certain amount of irreverence. (12) A radical whose strategy was strictly to bore from within, working with whatever came to hand (including existing genres as well as scripts and actors), he can't generally be identified with a specific visual style; reportedly he even disliked the striking style that cinematographer Kazuo Miyagawa brought to Tattoo (see three photos above), with its beautiful diptych compositions [see three above illustrations]. "Some believe more in the image, others believe in the story," he avowed in one interview. "Personally I believe in the story. Because images aren't absolute, one can't express everything with them." He also maintained:
I never use close-ups. I detest them. Why do a close-up of an actor or actress' face? I'll agree to do a close-up if it's the real face of a peasant, for example … [but] the performance of actors has no interest because it's finally a lie and doesn't wind up with anything beyond a certain 'resemblance'. (13)
Lest this sound like an overall denigration of actors, Masumura should also be credited with developing the performances of Ayako Wakao, one of the greatest and most sensual of all Japanese film actresses -– whom Mizoguchi featured in Gion Festival Music (Gion bayashi, 1953) and Street of Shame and who appeared in at least twenty of Masumura's films (and most of his masterpieces) –- and with fostering a kind of feminism relating to the self-determination of his women characters, many of them played by her.
What is persistent in Masumura's work, sometimes accompanying his fruitful collaborations with Wakao and other actors, is a certain ethical engagement with the world –- and a set of strategies for pursuing and sustaining that engagement, such as the privileging and exaggeration of obsessive forms of behaviour. Partly for this reason, many of his films are deeply erotic on some level. Because sexuality for women has often served as coin of the realm in Japanese society, the way that these women's 'fortunes' get saved, spent or squandered within that economy remains a profound ethical issue, and I can think of few directors apart from Masumura, his partial mentor Mizoguchi and his partial disciple Oshima who have made as many erotic films in tandem with the frankness of their political concerns. In the US, eroticism tends to be associated more with the right end of the political spectrum than with the left: such figures as Ayn Rand, Josef von Sternberg, Leni Riefenstahl and King Vidor, for instance. But if one wants to understand why Oshima's In the Realm of the Senses (1976) is a profoundly leftist (and anti-war) film, Masumura's oeuvre and all it implies points one in the proper direction.
Furthermore, Masumura's desire for an "exaggerated depiction" of certain aberrant forms of social behavior arguably stems from the same sort of impulse that led Oshima to systemically exclude the color green from Cruel Story of Youth (1960), his first color film and second feature. For Oshima, green signified the typical Japanese home including its enclosed garden and tea cabinet, and "I firmly believed that unless the dark sensibility that those things engendered was completely destroyed, nothing new could come into being in Japan." (14) For Masumura, the fatality of social realism, suggesting the impossibility of change, was as deadly as the color green was for Oshima. In its place he wanted to erect a fictional universe where freedom and individuality could take uninhibited flight -– in many cases entailing an unsentimental cinema about fanatics. As Canadian critic Mark Peranson has put it, "[Masumura's] movies are about the freedom to do whatever the fuck you want, and the ramifications of taking this attitude when society won't accept it." (15) This often gets played out in various groupings of features that might be loosely categorized as anti-war films, anti-capitalist films, kinky sex films, youth films, and films with strong heroines -– although, as with Fuller's seemingly separate preoccupations with war, journalism and crime, these categories often wind up interfacing to the point where they become indistinguishable.
A case in point is the delirious Sex Check, which encompasses all five categories. To sketch out only the first forty minutes, a dissolute former track star (Ken Ogata) fanatically trains and coaches an eighteen year old girl (Michiyo Yasuda) who works for an electrical company to become an Olympics athlete, meanwhile ditching the woman he lives with and ignoring every other female athlete on the team. The ambitious company, yearning for the prestige of an Olympics champion, reluctantly agrees to his single-minded approach, which includes giving her frequent personal rubdowns. Having been advised years ago that athletes have to become beasts to get ahead, he tested this theory during World War II -– as we see in a brief flashback -– by going berserk with his bayonet on enemy soldiers and raping lots of women, and he tries to introduce the same wisdom to his protégé. At their first meal together, he hands her a razor and says, "Shave every day so you can become a man; you have to overcome the limitations of female athletes", and before long they're also living together and having sex. (Later on, the question of whether she's a hermaphrodite gets raised, complicating this psychosexual scenario considerably.)
A characteristic note is already struck in Kiss (1957), Masumura's first feature, when the young hero and heroine -– a bakery delivery boy and an artist's model -– meet while visiting their respective fathers in prison; his father is serving a term for an "election day violation", hers for stealing money to pay her mother's hospital bills. Not wanting her mother to know that her husband's in jail, the model is seriously considering prostitution to raise the money for her father's bail so that he can go visit his wife in the hospital.
Twisted yet subtle moral decisions of this kind become even more prominent in the extraordinary Red Angel -– one of Masumura's best known films in the West, although it apparently hasn't yet enjoyed much of a reputation in Japan. The heroine (Wakao), a war nurse who's raped, subsequently exchanges her sexual services for a pint of blood that might save the life of her rapist; ostensibly she doesn't want him to die because he might think she's taking revenge. And the heroine in A False Student, again played by Wakao, has comparable scruples when it comes to dealing with first the sanity and then the madness of the title imposter.
A few more generalizations. Many of Masumura's films fall into a few overlapping categories. To provide a non-exhaustive list, these include: anti-capitalist films (Giants and Toys, Overflow [Hanran, 1959], Inflammation [Tadare, 1962]), anti-war films (Yakuza Soldier, Nakano Spy School, Red Angel, A Woman's Life [Onna no issho, 1962], Seisaku's Wife [Seisaku no tsuma, 1965]), kinky sex films (Manji, Red Angel, Love For an Idiot, Sex Check, Blind Beast, Thousand Cranes, The Tortures of Hell), films about strong women (The Blue Sky Maiden [Aozora musume, 1957], A Wife Confesses [Tsuma wa kokuhaku suru, 1961], Manji, Tattoo, Love For an Idiot, Seishu Hanaoka's Wife [Seishu No Tsuma, 1967], Electric Jellyfish [Denki kurage, 1970], Numbing Jellyfish [Shibire kurage, 1970], Lullaby of the Earth), yakuza films (Afraid to Die, Ode to the Yakuza, Numbing Jellyfish, Turf Wars aka Akumyo [Nawabari arashi, 1974]), and youth films (Kiss, The Blue Sky Maiden, A False Student, Play [Asobi, 1971]).
With some notable exceptions (Seishu Hanaoka's Wife, Tattoo, Lullaby of the Earth, Double Suicide in Sonezaki, the war films), Masumura's best films are those with contemporary settings. His least interesting films, in my experience, are generally his crime/yakuza pictures, the absolute worst being The Tortures of Hell, ironically the only one available commercially in the US with English subtitles, at least on video, while I was writing this article), though Japanese Cinema: The Essential Handbook (16), with its own characteristic cult and genre interests, treats it respectfully as an entry in the Hanzo the Blade series.
A response in part to the postwar and post-Occupation meekness of Japan, Masumura's cinema of crazy individualists straddles a contradiction that might even be said to be built into the Japanese language itself. Having noticed that Masumura's first feature, Kuchizuke, was translated variously as Kiss and Kisses, I asked a Japanese friend which was accurate. She replied there was no way of knowing because distinctions between singular and plural don't exist in Japanese. Apart from radically revising my sense of Japanese film titles -– so that, for instance, We Were Born, But … , Tokyo Stories and We Live in Fear are just as valid as the titles we know for I Was Born, But … (1932), Tokyo Story (1953) and I Live in Fear (1955) -– this made me realize that the very notion of individuality in Japanese is linguistically somewhat abstract.
This is no doubt a strength as well as a limitation; Americans who complain that they can't find characters "to identify with" in some movies -– which in my experience Japanese viewers are less likely to worry about -– may be suffering from an excess of "I". It also points to a complex kind of literary ambiguity that informs the language as a whole. A False Student -– one of Masumura's best early films, about radical college students who kidnap a naive would-be student with a fake ID, believing him to be a spy -– provides a fascinating cross-reference with Godard's La chinoise (1967), a somewhat more sympathetic (if still ambivalent) look at Maoist students seven years later. And the fake student of the title –- who eventually winds up in an insane asylum, raving in a manner that parodies Marxist ideologues and recalls Fuller's Shock Corridor (1963) is a good example of the characteristically crazy Masumura protagonist. Yet the moment one realizes the title could also be False Students or The False Students, the critique of the Marxists becomes extended a bit further, implicating them more directly.
A promoter of individuality and freedom who paradoxically wound up associating these values with insanity, Masumura was no less contradictory insofar as he was himself the quintessential company man at Daiei. To understand what he was rebelling against, it helps if one regards Ray's Bigger Than Life (1956) as the closest thing in Hollywood to a Masumura movie, viewing dementia as the alternative to conformity. But it also helps if one considers some of the traits Masumura was challenging in a specifically Japanese context, such as respect for fathers –- also undermined in Bigger Than Life, to be sure, but not in the same fashion. Most of The Blue Sky Maiden (see two photos below), his second feature, resembles one of Sirk's depictions of spoiled, wealthy teenagers –- the step-siblings encountered by the young title heroine (Wakao) when she moves from country to city to search out her real mother -– in terms of '50s styling, pastel colors and lighting, behavior, direction of actors and camera placement. But what gives it a specific Japanese inflection, and a highly transgressive one, is the climax in which Wakao denounces her father in his sickbed and gets him to agree that he's to blame for all the family's troubles. Even more shocking is the rage of the heroine in The Numbing Jellyfish, a bar hostess (Atsumi Mari) sleeping her way up the corporate ladder, against her alcoholic and philandering father, when she nearly kicks him to death for getting her into trouble with yakuzas.
For that matter, whether Kuchizuke translates as Kiss or Kisses, it was a somewhat provocative title in Japanese at the time (1957) considering that kisses couldn't be shown in Japanese cinema until after World War II (when American occupation censors actively encouraged them). An excitingly photographed teenage love story that evokes Nicholas Ray in spite of its relative sanity, Kiss is more characteristic of Masumura's style to viewers who speak Japanese because of the unusual speed and intonation of the dialogue delivery –- though it may have partly been the audience's difficulty in getting accustomed to this manner that accounted for the film's box office failure. Sato's writing about the film faintly suggests that it was the implied content of this manner that was the problem: the film was ignored by critics when it came out because of its presumed similarity to other youth films of the period, and only later did it become apparent that Masumura was rejecting many of the trappings of the genre:

His hero was neither mild-mannered, romantic, nor especially good-looking, but rather audacious and perpetually angry. He was not the first Japanese version of the angry young man – rich, profligate youths had to some extent raised hell before him – but he was the most significant because he was a poor boy from the masses. In contrast to previous youthful heroes, he gives vent to his frustrations through exaggerated actions rather than through languishing melancholically, for sympathy is the last thing he wants. Thus, there are no atmospheric props or sentimental effects in Kisses, and the young hero is going to fulfill his thwarted needs through action alone. (17)
The implications of the manner itself, however, shouldn't be overlooked. According to Yoshio Shirasaka in an interview (18), Masumura's goal in adapting the novel that was the source for The Blue Sky Maiden was to desentimentalize the material. In carrying out this work, Shirasaka -– who'd already been working on the script for some time before he met Masumura -– had calculated from the dialogue that the film would run about one hundred minutes, but once he discovered that Masumura's sped-up style of delivery would reduce this by half an hour, he added some scenes.
Bearing such factors in mind, one should consider to what degree my hypothesis of synchronicity regarding Masumura's films of the '50s and '60s and certain American films of the '50s may be a trompe l'œil predicated on my ignorance of certain details regarding language and Japanese social history. Is it possible that my hypothesis reflects the disagreeable American inclination of finding certain traits in other cultures acceptable as well as interesting only when they resemble American traits?
To ward off this potential danger, let me consider a few other ways in which the synchroncity I'm interested in is approximate at best, and therefore potentially misleading. Masumura's third feature, Warm Current (Danryu, 1957), a remake of a 1939 feature partially set in a hospital, is more generally located in a "Sirkian" upper-class milieu that resembles that of The Blue Sky Maiden. But here the Western elements of that milieu, often viewed in the previous film as a kind of modernist chic (e.g., the stepbrother of the heroine playing Dixieland), more often registers here as a kind of decadence, whether this happens to be a book of Chagall reproductions or an androgynous French musical number seen on TV. (Another relatively non-Sirkian factor is a line of dialogue in the film, not found in the 1939 version, that became famous in Japan: "I'll wait for you whether you make me a mistress or a concubine.") It's possible, of course, that I'm misreading the cultural connotations of Western artifacts in both films, but my larger point is that upper-class settings which have a double-edged aspect in both Sirk and Masumura –- attractive yet sinister -– are obviously not double-edged in the same fashion relative to Japanese attitudes towards the West.
Giants and Toys, the most Tashlin-like of the Masumura features I've seen, differs from Tashlin in the sheer and deliberate ugliness of the garish color cinematography as well as in the misanthropic treatment of many of the characters, the latter of which seems even more characteristic of Masumura. Though the charge of vulgarity frequently made against Tashlin by his detractors could certainly be lodged against Giants and Toys –- a film that, like Tashlin's own major film about advertising one year earlier, Will Success Spoil Rock Hunter?, was a commercial flop (and according to Masumura, the only one among his early features, apart from Kiss) -– the film's focus on a poor girl with spectacularly bad teeth being made the mascot of one candy company, then a media sensation thanks to the efforts of a photographer for a porn magazine, aims for a kind of unpleasantness and negativity that would have been minimized by Tashlin, who tended to enjoy many of the cultural and capitalist excesses he satirized. For that matter, one might counter that the 'Tashlinesque' qualities of a mediocre and anachronistic farce in color and Cinemascope set during the Edo period, Life of a Don Juan (Koshoku ichidai onna, 1961) –- or those of a somewhat better contemporary comedy in color and Cinemascope, A Lady Pickpocket (Ashi ni sawatta onna), made the previous year –- could just as easily be described as the Japanese equivalent of Bob Hope comedies made during the same era; the Tashlin-like uses of bright colors in the latter, for instance, seem relatively unexceptional.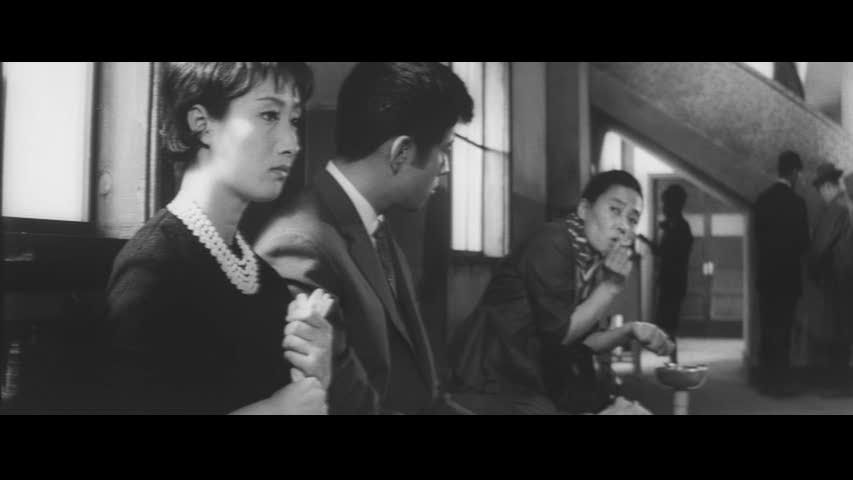 Even more to the point, the feature I would identify as Masumura's supreme masterpiece -– an adroit black and white Cinemascope melodrama, A Wife Confesses -– has no significant parallels that I can discern in the work of Ray, Fuller, Sirk or Tashlin. In fact, confirming the more conventional wisdom that Masumura's most important affinities were to contemporary European filmmakers, the film shows the direct influence of Alain Resnais' Hiroshima, mon amour (1959) in its startling uses of match cuts to introduce its successive flashbacks. A carefully structured and beautifully directed existential thriller, it centers on the murder trial of a twenty-eight year old woman (Wakao) whose husband, an abusive middle-aged college professor, fell to his death after a mountain-climbing mishap led her to cut the rope binding the two of them together. Complicating her split-second decision -– the focus of the entire film -– is the fact that the same rope also attached her at the other end to a young, attractive salesman with whom her husband had business ties and whom she was in love with, and if she failed to cut either man loose, all three would have most likely fallen to their deaths. A powerful metaphor for Japanese interdependence, this rope connecting the members of a romantic triangle is also tied, one might say, to Masumura's major theme: the tragedy as well as the necessity of individual choice and desire in a highly interactive society.
Notes
1. After this article was completed in 2001, a company called Fantoma in the US released Blind Beast, Giants and Toys, Afraid to Die, Manji, The Black Test Car (1962, see three photos below) and Red Angel on DVD.
2.www.sensesofcinema.com
3. Shigehiko Hasumi, Yasujiro Ozu (Paris: Editions de l'étoile/Cahiers du cinéma, 1998).
4. Quoted in Chuck Stephens, "Another Green World", Film Comment. September-October 2001, p. 68.
5. Sadao Yamane, Masumura Yasuzo: Ishi to shite no erosu [Yasuzo Masumura: Eros as Will] (Tokyo: Chikuma Shobo, 1992).
6. Hiroaki Fujii (ed.), Eiga kantoku Masumura Yasuzo no sekai [The World of Yasuzo Masumura, Film Director] (Tokyo: Waizu Shuppan, 1999).
7. For assistance in this work, I'm especially grateful to Mona Nagai, Edith Kramer, Jason Sanders and Nancy Goldman.
8. An essay by Masumura, 'Kon Ichikawa's Method' – translated into English by Michael Raine and included in James Quandt (ed.), Kon Ichikawa (Toronto: Cinematheque Ontario, 2001), pp. 95-103 – shows a great deal of ambivalence towards his mentor. When Masumura notes at one point that 'the assistant director in charge of [the] historically inaccurate costumes' prepared for Nihonbashi 'protested strongly but was completely ignored', one wonders if he was writing about himself.
9. Nagisa Oshima, Cinema, Censorship, and the State: The Writings of Nagisa Oshima (Cambridge: MIT Press, 1992), p. 30.
10. Translated into English by Chika Kinoshita from Eiga kantoku Masumura Yasuzo no sekai.
11. Ibid.
12. Conversation with Tadao Sato at Capitol Tokyu Hotel, Tokyo, 11 December 1999. A previous conversation in Tokyo with Donald Richie at the Japan Foundation (29 November 1999) was also of great assistance, and James Quandt –- director of the Cinematheque Ontario and a staunch Masumura supporter – has facilitated my work in numerous ways. Michael Raine also assisted me with advice deriving from his own research into Masumura.
13. Eiga kantoku Masumura Yasuzo no sekai.
14. Oshima, Cinema, Censorship, and the State, p. 208.
15. Mark Peranson, Now, 12 February 1998.
16. Thomas Weisser and Yukio Mihara Weisser, Japanese Cinema: The Essential Handbook (Featuring Japanese Cult Cinema Since 1955) (Miami: Vital Books, 1998), p. 139.
17. Tadao Sato, Currents in Japanese Cinema (Tokyo: Kodansha International, 1987), pp. 210-211.
18. Eiga kantoku Masumura Yasuzo no sekai.